Hi,
​
[This week's emails are contributed by Rakshith, and he ponders about a serious topic in a lot of detail: How to develop a Learning Organization?]
​
Through this week, we've talked about the importance of continuous learning. We've talked about the role of needs analysis, the GPS framework, and performance support in creating a culture of continuous learning. And we've also talked about inevitably marrying micro-learning to traditional enterprise training heralding a blended future.
​
But who are we doing this for? Broadly, I think there are only two stakeholders that matter. One, the business that green lights the training initiative and finds the budget for it. Two, the learners for whom the training initiative is designed for.
​
How do we convince these two stakeholders?
​
Let's start with the business:
I've looked at several sales and persuasion models, pored over hundreds of decision-making and critical thinking models to understand the minds of decision-makers, and even radical empathy to put myself in the shoes of the decision-makers. After all this, conversations with L&D decision-makers has made one thing clear to me. These efforts can help you make a great case for why they should invest in your approach for a particular training initiative. But the final decision rests on two questions. One, do you have a senior friend in the L&D team who can go to the business/management and bat for you and your ideas? Two, Is that individual incentivized to do so – meaning is the program unique enough that they are able to get recognition or raise their profile by advocating for your program?
​
That's the business. Now let's take the second stakeholder – the learner.
To answer this question, we must start by building the personas of our learners. While I'll go into the details in future emails, I believe we can map our learners on this diagram:​​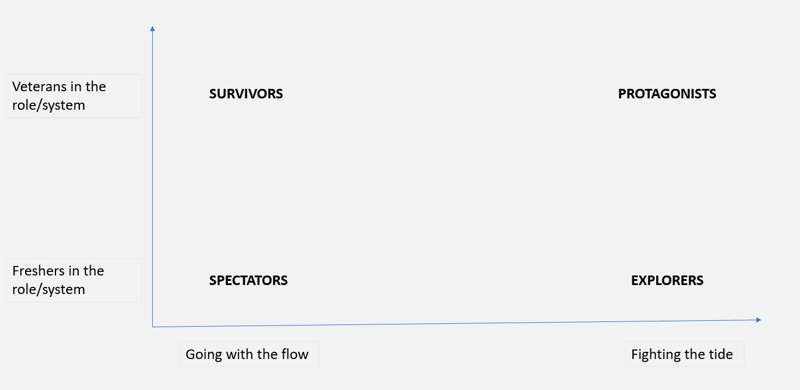 ​
​
Freshers in the role/system: Are not clear about their role. They may or may not be clear about why they are attending training. Mostly enthusiastic in a training environment.
Veterans in the role/system: Are clear about their role in most cases. They may be happy and productive in their position or unhappy and cynical
Going with the flow: Don't know what to do with their life or career yet. Therefore, have no goal when they attend a training program.
Fighting the tide: Have a goal to achieve for themselves when they attend a training program.
​
Spectators (Going with the flow & Freshers in the role/system) are new to the system. They've hardly attended any training programs. They are new to their role and unsure about how they ought to plan their career. Therefore, they have no clue how your training program might benefit them. They are here either to check the program out or because they have no choice; their manager/system has forced them to be here. They are the quiet ones but idealistic and possibly enthusiastic. They usually do not participate much in the training but are largely paying attention and engaged.
​
Explorers (Fighting the tide & Freshers in the role/system) are also new to the system but know what they want from the training program. They are not attending the training because they have to but because they want to. They may not have a lot of clarity about their roles but they have goals. They are idealistic and enthusiastic. They may be low on skill or knowledge but have the right attitude towards learning. They are actively participating and engaged in the training.
​
Survivors (Going with the flow & Veterans in the role/system) have been in the system for a while and chosen to remain clueless or have become cynical. They are in the training program because they have to be. They are neither participating nor engaged for the majority of the program.
​
Protagonists (Fighting the tide & Veterans in the role/system) are clear about their role and come into the training with a problem to solve. The problem is immediate and they expect to figure out a solution in the training. They attend wanting to be engaged and therefore, if your training does not address their needs soon, they will switch off. They value their time.
​
In the weeks to come, we'll look at fleshing their personas out, understand their motivations, and look at how the GPS Framework can be used to cater to each persona in a training. Until then, think about these four categories. Have you encountered them in your training programs?
​
Unearthing 'plots'
Rakshith
​