[Rakshith Bhagavath, my partner, has written the email for this entire week. You'll love the series, I'm sure. Follow along, and let me know what you feel about this mail and the ones that follow till this Saturday]
Hi,
You want any learning experience to be an exciting and engaging journey that is memorable and worth talking about in water-cooler conversations. One way to do this is to make learning fun. Not fun for fun's sake or fun at the cost of learning, but fun to make learning stick. We can use Games and Gamification to make learning fun.
First things first, they are different. Like crows and ravens, frogs and toads, and Amy Adams and Isla Fischer, they're similar, but have different characteristics. In simple terms, games are played in a training as educational entertainment whereas gamification is the use of individual game elements for improving the learner's motivation to learn.
We've generally found that when games and gamification are baked into a training program – incorporated at the time of designing a training to achieve learning objectives, and not bolted on later because the training is boring – they can simulate real-life situations and emotions in learners. Not only does that allow learners to test their responses in a safe and engaging environment, but it also gives them instant feedback on how they are doing. This leads to a rich debriefing session at the end of the training where participants can reflect on their actions and commit to desired actions and behaviours.
While the design and selection of games for learning is a vast topic that I will touch upon in a different series at a different time, I want to share with you some simple techniques you can use to gamify your training programs. While we are curating an ever-growing list of techniques, here are 5 things you can consider doing in the next training you facilitate.
Theme and Narrative: A story and setting that guides the actions of the players and creates challenges they must overcome. For example, a classroom/virtual team building session set around the theme of the show The Amazing Race.
Goal: The conditions for victory or success set by the facilitator. Players may have their own goals too. For example, to win The Amazing Race learners must accomplish all the tasks set by the facilitator. However, each player individually must also have led their respective teams in at least one round.
Boss Battle: Players have a chance to consolidate everything they've mastered and engage in a single epic challenge. It usually signals the end of a journey (level or game). The easiest way to do this is a quiz.
Boosters: A booster is a reward for having completed a series of challenges or activities in the training. A coffee break, tokens of appreciation, the opportunity to lead a discussion in the next round can all be meaningful boosters.
Easter Eggs: These are small, fun secrets that players can discover as they move through the game. You can create mystery by announcing an easter egg and participants are usually excited to pursue them and achieve a sense of satisfaction on finding them. We usually hide an Easter Egg in the workbook we share with participants, to motivate them to study and use the workbook. There's an easter egg in this mail. Reply to the mail with what you found after decoding the easter egg and win a cool prize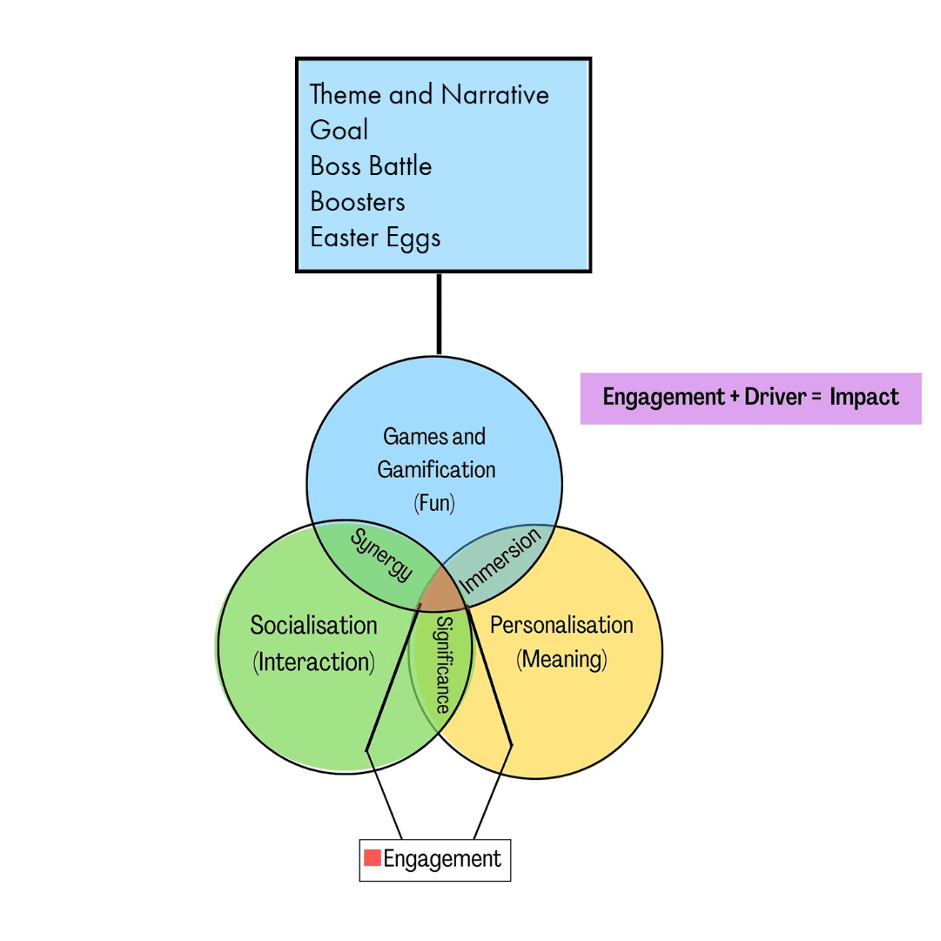 (There are 2 kinds of people in this world. Those who click on an image and those who don't.)
Inviting you to use games and gamification,
Rakshith