[Rakshith Bhagavath, my partner, has written the email for this entire week. You'll love the series, I'm sure. Follow along, and let me know what you feel about this mail and the ones that follow till this Saturday]
​
Hi,
​
Over the last four days, I've introduced you to the ingredients of the GPS Framework. Today is Christmas and if you've ever baked a Christmas cake you know that just putting the ingredients together doesn't a cake make. For the cake to taste delicious, the ingredients must blend and enhance each other's taste. So, we'll look at the interplay between Gamification, Personalisation, and Socialisation today.
​
​Gamification and Personalisation create Immersion. Gamification brings fun to training. Personalisation brings meaning to training. Together they enable the learner to have a more engaging experience, to feel that they are part of something bigger than themselves. Layering a training experience with a rich setting, narrative, and props is an actionable way to make learning immersive. Learners too can be invited to take on fictional avatars. The active and realistic nature of the environment establishes an emotional connection with the learners with the learning experience or event.
​
​Personalisation and Socialisation create Significance. In simple terms, we are creating meaningful interactions here. Meaningful interactions between learners and the facilitator make training significant. How can we create this feeling in a training program? Think back to any movie you have watched or story you have read. When do the characters open up to each other? Usually after having gone through an intense experience together like overcoming a challenge or fighting off an evil villain and experiencing a moment of safety together where they are comfortable discussing their respective vulnerabilities. This allows them to emerge from their metaphorical cave as changed people. We need this mix of intense action followed by deliberate reflection in a training to inspire learners onto the path of behaviour change.
​
​Gamification and Socialisation create Synergy. I remember the first time I played Monopoly. I played it with my mother. I was bored in 30 minutes. Since then, I have played Monopoly multiple times with family and friends. The game somehow becomes bigger and better than the sum of its parts each time I play with a small group that is having fun together. Similarly, as a facilitator, you cannot design a brilliant program without making affordances for harnessing the collective intelligence of the group. Therefore, as a facilitator, you must design an environment and an experience that allows participants to immerse themselves in the experience and then share their thoughts and takeaways not only to make sense of it for themselves but also for the benefit of everybody in the group.
​
​All three together create Engagement: Everyone has an innate desire to be involved with a goal, to be of service, to be a hero. Imagine playing a video game. As you play, youimmersively interact with the world, its story, and its characters. You can see that your actions are having an impact within the gaming environment, and you feel like you are becoming the hero you are portraying. This state is when you are engaged in the activity of playing the game. I invite you to use the GPS Framework – the techniques of Gamification, Personalisation, and Socialisation – to create an engaging training experience.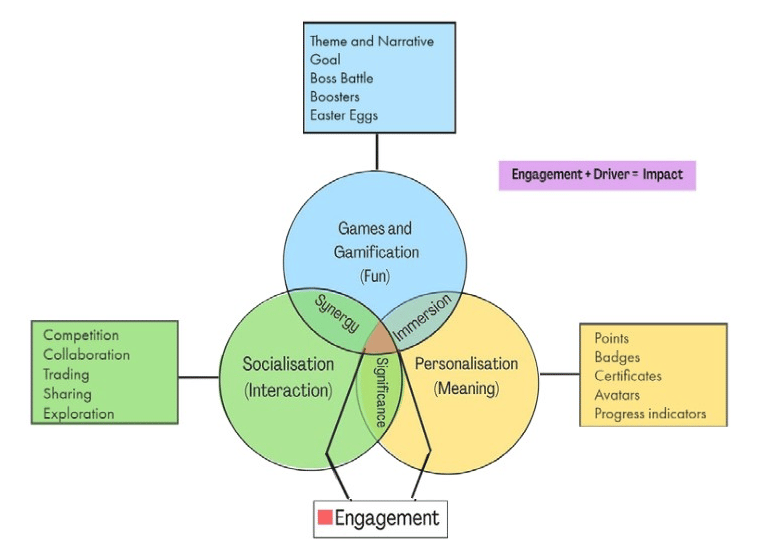 ​
​
All the best!
​
Inviting you to use the GPS,
Rakshith
​
​
​